BACK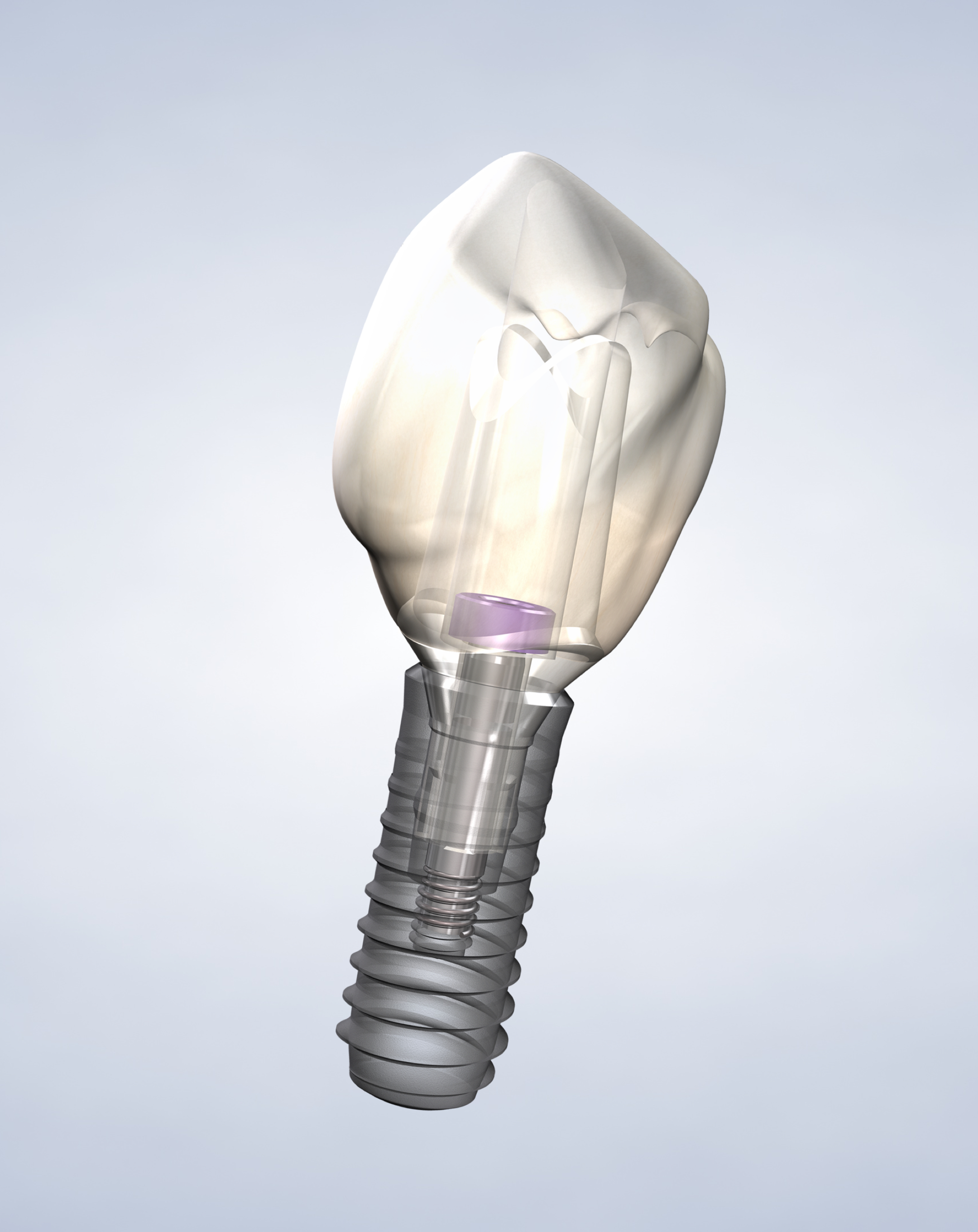 Dental Implants in Jeffersonville, IN
Restore Your Smile's Look and Function
At Kentuckiana Oral Maxillofacial and Dental Implant Surgery, it is our goal to help patients feel confident about their smiles and improve their overall oral health. If you have one or more missing or damaged teeth, or ones that you wish to replace for cosmetic purposes, dental implants may be the most ideal tooth replacement solution for you.
Our oral surgeons Dr. Nathan Walters, Dr. Christopher Noonan, Dr. Geoff Mills, Dr. Jamie Warren, and Dr. Will Allen specialize in restoring smiles with dental implants. These replacement teeth will look and feel natural and provide you with the same function as healthy, natural teeth. If you are in need of restoring or replacing a tooth or teeth, contact Kentuckiana Oral Maxillofacial and Dental Implant Surgery to learn about dental implants in Louisville and Mt. Washington, KY, and Jeffersonville, IN.
Types of Dental Implants
Every patient is different, and we create a custom plan for everyone's unique needs. Our oral surgeons offer many types of dental implant treatment, including:
Single Tooth Replacement. Anywhere you need a replacement tooth, we can insert a dental implant anywhere in the mouth, whether that involves one implant or multiple implants.
Immediate Implants. If you need a tooth extracted and have enough jaw bone to support an implant, we can extract the tooth and place the implant post at the same appointment. This saves you time, money, and prevents you from having to go without a tooth.
Implant-Supported Bridge. Traditional bridges restore the appearance of multiple teeth missing next to each other and require that teeth on either side of the gap be ground down to hold the bridge. With dental implants, your natural teeth are protected, and the implant post provides more stability and function than a traditional bridge.
Full-Arch Restoration. Ideal for patients in need of a brand new smile, this treatment uses dental implant posts to hold a fixed prosthesis. You can receive a new, fully functioning arch of teeth in one or both arches, changing your smile and your life.
The Benefits of Dental Implants
Dental implants have many benefits over removable dentures and other traditional oral appliances used to restore your smile. Some of these benefits include:
Prevent Bone Loss
The implants integrate with the jaw bone, similar to natural teeth roots. This keeps the jaw bone healthy. Dental implants are the only restorative solution that prevents jaw bone atrophy associated with tooth loss.
Long-Term
With proper care, your implants can last a lifetime. They fuse to the jaw, becoming a secure part of your smile. Unlike removable dentures, your implants remain in your mouth at all times, including meals and brushing.
Beautiful Results
The crown of your implant is unique and custom-made to blend in with your other teeth. Most people will not be able to tell which is the replacement tooth.
Restore Confidence
With a complete and healthy smile, you have higher self-esteem. If you've ever felt the need to hide your teeth, dental implants are your ticket to renewed confidence and feeling proud of your smile.

Zygomatic or pterygoid implants are inserted into the facial bones instead of the jaw bone and used to support a full arch of new teeth. These implants are ideal for patients who wish to receive dental implants but have no bone remaining in the upper jaw. Similar to traditional dental implants, they restore oral function and produce natural-looking results.
More Dental Implant Options
Dr. Allen is a dental implant specialist who helps more patients undergo successful implant-based restorations. Some patients are told they do not qualify for implants because of inadequate bone, periodontal disease, or for medical reasons. Dr. Allen will work with you to make dental implants an option by offering special implants, such as zygomatic implants that fuse to the cheek bone.
Other treatments like soft tissue and bone grafts can restore weakened facial structures. Dr. Allen focuses on existing implants that have failed and need to be restored. If you have previously been told that dental implants are not an option for your smile or have implants that have failed, we invite you to contact us. Dr. Allen has helped many patients achieve healthy and complete smiles through advanced implant techniques.
Evaluation for Dental Implants
To see if dental implants are right for you, we will evaluate your oral health during the consultation appointment. This includes taking 3D scans of your mouth and face, allowing Dr. Walters, Dr. Noonan, Dr. Mills, Dr. Warren, or Dr. Allen to assess the health of your jaw bone. We will thoroughly discuss your health history and current medical conditions to make sure it is safe for you to undergo this procedure with anesthesia.
Many patients who need dental implants are candidates for this procedure as long as there is sufficient jaw bone to support the implants. Our experts will explain every step of your treatment and address your questions or concerns so you feel confident and comfortable about your care.
Dental Implant Procedure
For most patients, receiving a dental implant will require two surgical procedures. The first procedure involves placing the implant post, and the second procedure involves uncovering the implant to attach the abutment. If you are receiving immediate or same-day implants, only one surgical appointment is necessary.
On the day of your dental implant surgery, we will administer the anesthesia or sedation. IV sedation is often used for this procedure in addition to local anesthesia, which numbs the surgical area. Once the anesthesia has taken effect, your surgeon will make a small incision in the gum tissue and insert the implant post. The post will protrude through the gums and serve as the anchor for your replacement tooth.
Over the next 3–6 months, the post will fuse with the jaw bone. You can expect to eat a soft diet during this phase of healing. If the implant is in a noticeable place in the mouth, such as a front tooth, we will place a temporary crown over the post so you won't be without a tooth. While you heal, your restorative dentist designs and fabricates the final crown.
When the implant has fully healed, you will return to our office for the second procedure. Your surgeon will uncover the implant post and attach a connective abutment. After the custom crown is attached, you will have a healthy, strong, beautiful new tooth. From start to finish, the process of receiving a dental implant takes around 6–8 months, but most patients do not experience any disruption in their daily routines.
How Much Do Dental Implants Cost in Jeffersonville, IN?
The cost of dental implants varies for each patient. We take several factors into consideration, including the number of implants you need, if you require bone grafts or extraction, your dental insurance, and your choice of anesthesia. During the consultation, we discuss each of these items with you. Our staff will provide you with a cost estimate prior to treatment and talk about your payment options.
Other options like dentures or traditional bridges may be cheaper upfront, but they can increase in cost over the years. You must replace these appliances every few years and they do not protect the jaw bone, possibly leading to extensive bone repair surgery. With dental implants, you have peace of mind that your jaw bone is protected, and you do not need to replace the implant if properly cared for.
Practicing oral hygiene for your dental implant is easy—simply brush and floss like a natural tooth. There are no special rinses or oral adhesives. When placed by an oral and maxillofacial surgery expert like our team at Kentuckiana Oral Maxillofacial and Dental Implant Surgery, you can feel confident about the care you receive and about your restored smile.
Denture Replacement With Dental Implants
When exploring options to replace missing teeth, some patients choose dentures because they are cheaper upfront. However, the cost can accumulate over the years due to replacing the dentures often and having them professionally fitted. Dental implants eliminate these inconveniences and restore both the appearance and function of missing teeth.
Patients who currently wear full dentures may qualify for full-arch restoration, which involves your surgeon placing several implant posts to support a fixed denture. Your replacement teeth will remain stable and strong, plus prevent jaw bone atrophy. Implants can also replace partial dentures and dental bridges with long-lasting, beautiful results. Contact our office today to learn more about denture replacement in Jeffersonville, IN.
Hear From Dental Implant Patients
These patients can tell you about their firsthand experience undergoing dental implant treatment at our office.
Reviews From Our Dental Implant Patients
Frequently Asked Questions: Dental Implants
How painful is getting a dental implant?
We offer many anesthesia and sedation options so you feel comfortable during surgery. These will help alleviate anxiety and prevent discomfort. Patients who undergo IV sedation wake up afterwards with no memory of the procedure. Any post-surgical pain can be managed with over-the-counter pain medications.
Does food get stuck under implants?
Food can get trapped around or between implants, just like natural teeth. Brush and floss normally to clean away debris and bacteria. Keeping your teeth and gums clean prevents infection and gum disease.
How long does it take for my implant to feel normal?
Your implant may feel different during the recovery period. It takes several months for the post to fully heal and become integrated with the jaw bone. Once fully healed, your implant will feel just like your other teeth.
Can I get a dental implant years after extraction?
You can get a dental implant at any age, any length of time after extraction, as long as there is adequate jaw bone to support it. If not, we can place a bone graft to stimulate the production of new bone. Once there is enough bone, we can place the implant post.
Your Home for Clinical Excellence
Since 2004, we have provided patients along the Indiana and Kentucky border with superior oral surgery services and beautiful results. Our surgeons are oral health experts, and together with our skilled staff, we raise the bar for our patients and their experiences.