BACK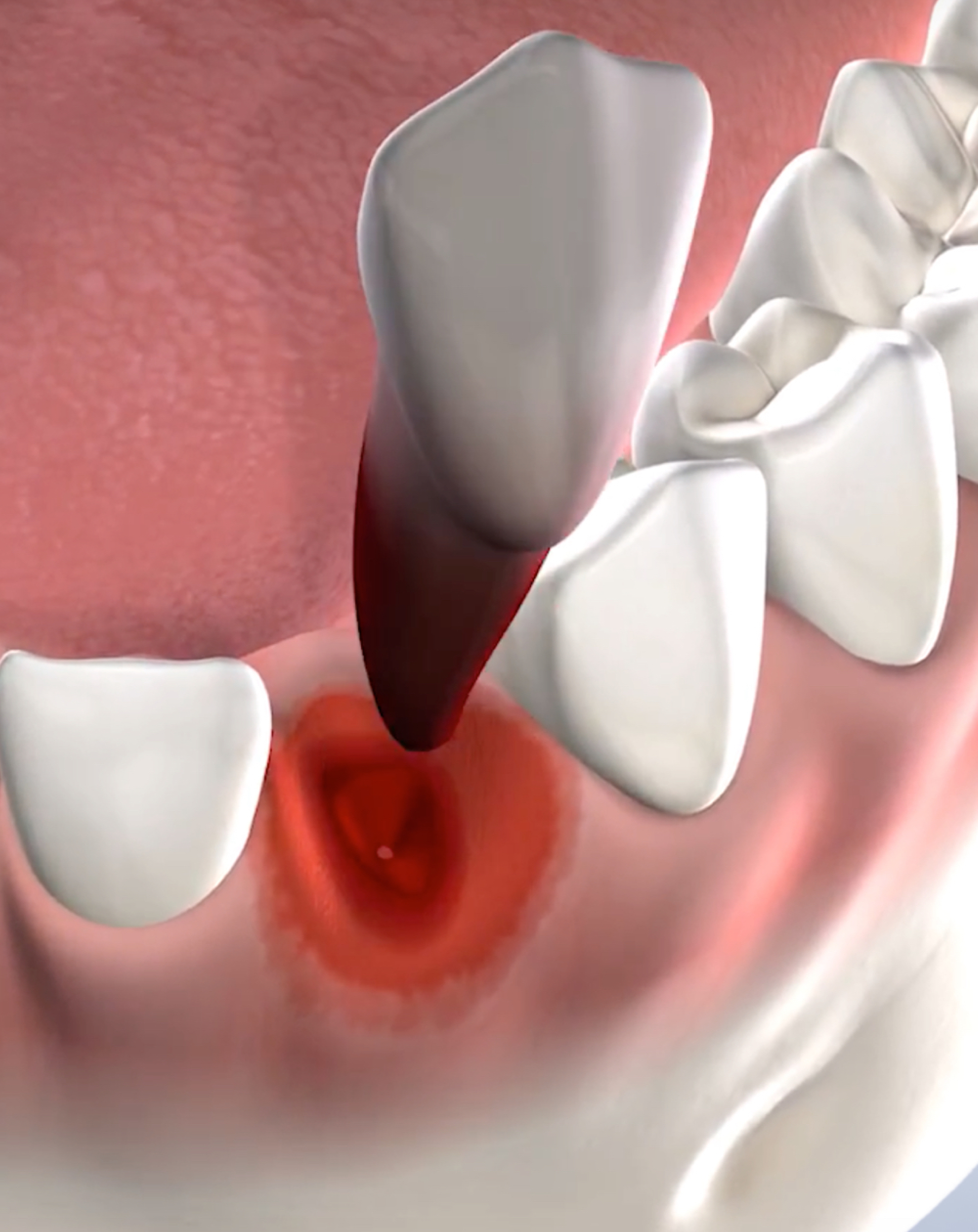 Tooth Extraction
Comfortable Extraction and Many Tooth Replacement Options
General tooth extraction is a standard dental procedure. We perform tooth extractions at each of our offices in Louisville and Mt. Washington, KY, and Jeffersonville, IN. If you have a tooth that is severely infected, damaged beyond repair, or decayed, it may need to be removed. By extracting this tooth, you can protect the health of nearby teeth and gums. 
At Kentuckiana Oral Maxillofacial and Dental Implant Surgery, we make the tooth extraction process easy. If you think you may need to have a tooth pulled out or have been referred by your general dentist, call one of our offices for an appointment. Our oral surgeons, Dr. Nathan Walters, Dr. Christopher Noonan, Dr. Geoff Mills, Dr. Jamie Warren, and Dr. Will Allen, will evaluate your health and determine the right oral surgery solution for you. 
Signs You May Need a Tooth Extracted 
A dentist or oral surgeon can tell you if a tooth extraction is necessary. Every attempt will be made to save your natural tooth, but some teeth are beyond the point of saving. If an infected tooth is left untreated, the infection could spread to adjacent teeth and gums, resulting in periodontal disease or tooth decay. Decayed enamel will not grow back, and the infection must be contained before it spreads. 
Similarly, a badly damaged tooth that is unable to be saved with restorative dentistry will not serve you properly. You may damage the tooth more through daily activities like brushing and eating, and it may cause pain. 
If you experience any of these issues, you may be in need of a tooth extraction: 
Infection or decay that has reached deep into the tooth
Facial trauma or injury that caused damage to one or more teeth
Dental overcrowding, or when there isn't enough room in your mouth for all of your teeth
Baby teeth that do not fall out in time for adult teeth to erupt
Wisdom teeth; learn more about Wisdom Teeth Removal
Sometimes when undergoing orthodontic treatment, it is necessary to extract a tooth or teeth so that the other teeth can properly align and function. In these cases, your orthodontist may refer you to an oral surgeon to have the necessary teeth extracted, then continue with your orthodontic care. 
The Tooth Extraction Process
When you come to Kentuckiana Oral Maxillofacial and Dental Implant Surgery, our team closely evaluates your needs and walks you through all of your treatment options. We will take 3D scans of your mouth during the first visit and discuss your options for anesthesia or sedation. For many tooth extractions, we administer local anesthesia to numb the area. However, you and your surgeon will decide on the right type or combination of methods for your needs. 
In some simple extraction cases, we are able to perform the tooth extraction at the same visit as the consultation. We will administer local anesthesia to numb the area. For more complex extractions, you will return on a different day and we will administer the agreed upon method of anesthesia. 
Once you are comfortable, your oral surgeon will loosen the tooth with an instrument called an elevator and pull it out using forceps. For more complex surgical extractions, such as impacted teeth, your surgeon will make a small incision in the gum tissue to access the tooth, then remove it. 
Following your extraction, we will provide instructions on how to keep the extraction site clean and ensure it heals properly. If you received or plan to receive dental implants to restore the tooth, we will guide you throughout every step of that process too.
Replace Your Missing Tooth
Now that your tooth has been extracted, there are several options to consider when replacing it. If the tooth is less visible, you may not wish to restore it. However, this can post the risk of jaw bone loss and dental shifting when a tooth is not in the dental arch. Replacing a missing tooth is great for your oral health and confidence by having a complete smile. 
At Kentuckiana Oral Maxillofacial and Dental Implant Surgery, we explain all of your options so you can decide the right tooth replacement option for your needs. 
Dental implant. A dental implant is the only tooth restoration option that fuses to the jaw bone, similar to a natural tooth root. It remains in your mouth at all times and acts just like a healthy adult tooth. The crown is designed to match the size and color of other teeth, making it a natural-looking addition to your smile. 
Dental bridge. A bridge is a false tooth held in place by framework that is attached to the adjacent teeth. It requires your existing teeth to be resized to fit the bridge and you must exercise care around it when brushing and flossing. Dental bridges do not protect the jaw bone from bone loss.
Full or partial dentures. Dentures cosmetically restore your teeth, but do not restore oral function. They sit on top of the bony ridge and are removed when eating or brushing. You must replace dentures every few years and if not professionally fitted, they can cause sores or slide around in the mouth. Dentures do not protect the jaw bone from bone loss. 
No replacement. Without a replacement tooth, the teeth on either side of the gap will shift into the open space. The jaw bone underneath will weaken due to lack of stimulation, and you may experience a lack of self-confidence by not having a complete smile.
Tooth Extractions in Louisville, KY, Mt. Washington, KY, and Jeffersonville, IN
We regularly perform tooth extractions at each of our offices and will ensure your comfort throughout the extraction process. Contact Kentuckiana Oral Maxillofacial and Dental Implant Surgery today if you have severe tooth pain or suspect you may need a tooth extracted and our oral surgeons will create a custom treatment plan just for you. After your extraction, we are happy to discuss your tooth replacement options, such as dental implants, to restore your smile's appearance, health, and functionality.
Hear From Tooth Extraction Patients
These patients can tell you about their firsthand experience undergoing tooth extraction at our office.
Reviews From Our Tooth Extraction Patients
Your Home for Clinical Excellence
Since 2004, we have provided patients along the Indiana and Kentucky border with superior oral surgery services and beautiful results. Our surgeons are oral health experts, and together with our skilled staff, we raise the bar for our patients and their experiences.