BACK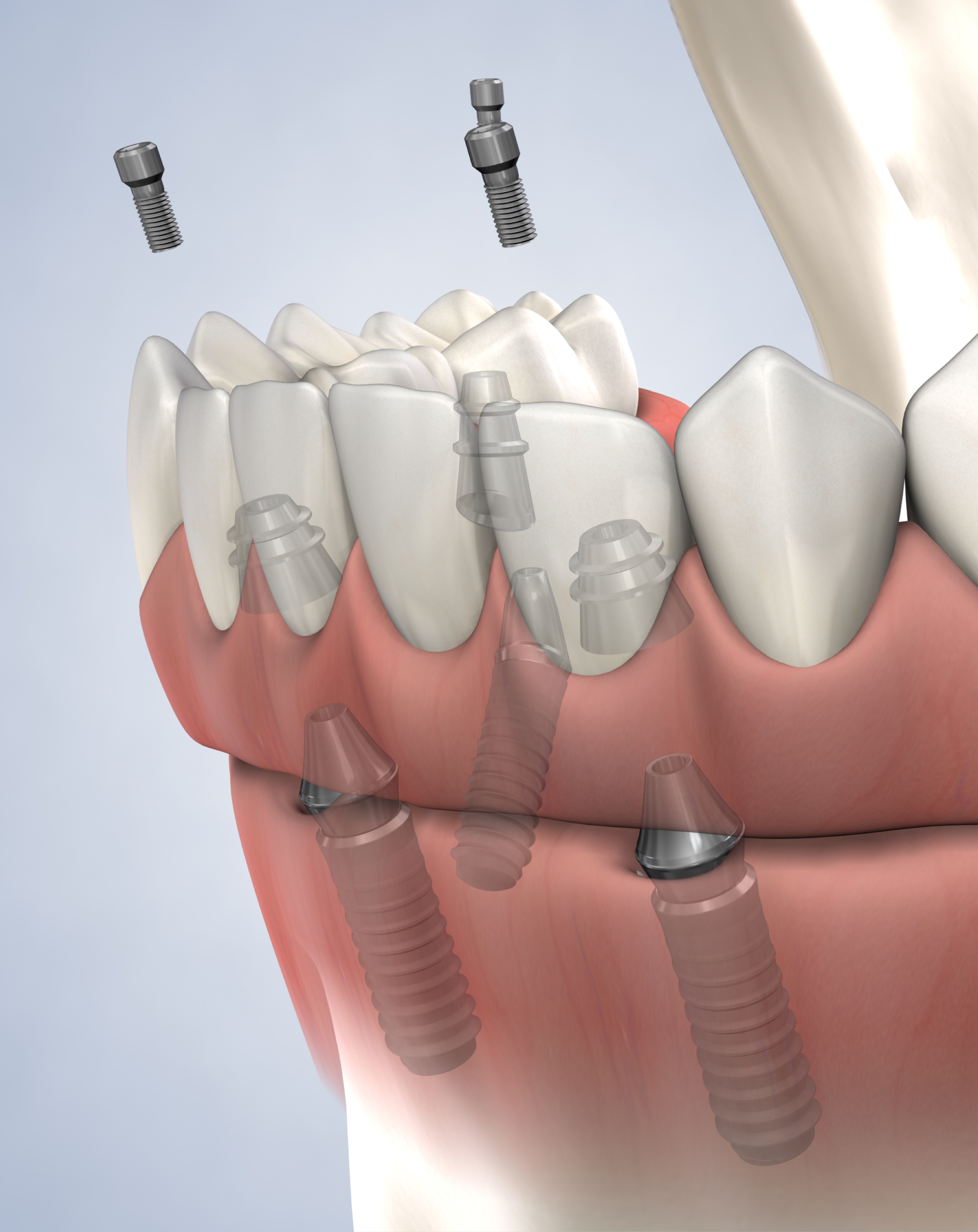 Full-Arch Restoration
Restore the Look and Function of Your Entire Smile
Some patients struggle with many missing or failing teeth, leading to a significant lack of self-esteem and the inability to maintain proper oral function. Our oral surgery experts at Kentuckiana Oral Maxillofacial and Dental Implant Surgery offer full-arch restoration, a solution for patients looking to replace one or many missing or failing teeth.
Full-arch restoration provides a secure, fully functioning arch of replacement teeth in one or both dental arches. The fixed denture is secured using several dental implant posts that integrate with the jaw bone. If it's time for a complete smile makeover, contact us to learn more about full-arch restoration in Louisville and Mt. Washington, KY, and Jeffersonville, IN.
The Benefits of Full-Arch Restoration
Implant-based restoration has enormous health and functional benefits over traditional methods of replacing teeth. By undergoing full-arch restoration, you experience these wonderful benefits:
Prevent Bone Loss
Dental implants are the only tooth replacement option that fuses to the jaw bone beneath the surface. Similar to a natural tooth root, the implant post stimulates this bone, keeping it healthy. This stimulation is necessary to prevent the jaw bone from deteriorating.
Total Convenience
Once your new teeth are placed, they will remain in your mouth at all times. You do not have to remove them when eating or brushing, like traditional dentures, and they will feel just like a complete set of natural teeth.
Easy Maintenance
To care for your new smile, simply brush and floss your teeth normally. There are no special rinses or adhesives necessary to keep your smile looking beautiful and healthy.
Beautiful Results
Your new set of teeth is custom made just for you. It will be unlike anyone else's smile and will fit perfectly with the contours of your mouth and gums. The teeth are designed to look just like natural adult teeth.
Who Is a Candidate for Full-Arch Restoration? 
Similar to dental implants, as long as there is enough jaw bone to support the implants, you are a candidate for implant-based restoration. If there is not enough healthy jaw bone, we can place bone grafts in weakened areas to stimulate the growth of new bone. 
If you experience any of these conditions, you may be a great candidate for full-arch restoration:
If you wear traditional dentures and seek a more secure, functional solution
If you have many missing, failing, or damaged teeth
If you require many single dental implants
We work with you to determine the right type of treatment for your smile, health, and finances. If you are needing to replace one or several teeth, instead of a full arch, dental implants may be the right solution for you. Learn more on our Dental Implants page.
The Full-Arch Restoration Process
When you visit one of our offices for the first time, you will meet with Dr. Nathan Walters, Dr. Christopher Noonan, Dr. Geoff Mills, Dr. Jamie Warren, or Dr. Will Allen, who will evaluate the current state of your oral health. We will take 3D scans and discuss your options for anesthesia and sedation for any type of procedure you may need. If full-arch restoration is the right treatment for you, your oral surgeon will walk you through the entire process and you will schedule a separate appointment for the surgery. 
On the day of surgery, we will administer the chosen method of anesthesia. Your surgeon will extract any damaged or failing teeth that are still left within the dental arch and insert the dental implant posts. Depending on the condition of your jaw bone, you may require only four implant posts or more than four. We will place a temporary prosthesis to wear while the implants heal. 
Once healed, a restorative dentist will attach your final, new teeth to the implant posts. You can enjoy your smile immediately and enjoy your favorite foods without worrying about pain or any moving parts. 
Full-Arch Restoration in Louisville, KY, Mt. Washington, KY, and Jeffersonville, IN
If you are missing many or all of your teeth or wear removable dentures, full-arch restoration may be your solution for a healthy, complete, and fully functioning smile. Even if you have been wearing removable dentures or traditional dental bridges for years, you can still qualify for implant-supported dentures. Contact Kentuckiana Oral Maxillofacial and Dental Implant Surgery to find out if this life-changing treatment is right for you. Our oral surgeons will create a tooth restoration plan unique to your needs and together, we can help you achieve a beautiful smile you can be proud of.
Your Home for Clinical Excellence
Since 2004, we have provided patients along the Indiana and Kentucky border with superior oral surgery services and beautiful results. Our surgeons are oral health experts, and together with our skilled staff, we raise the bar for our patients and their experiences.