BACK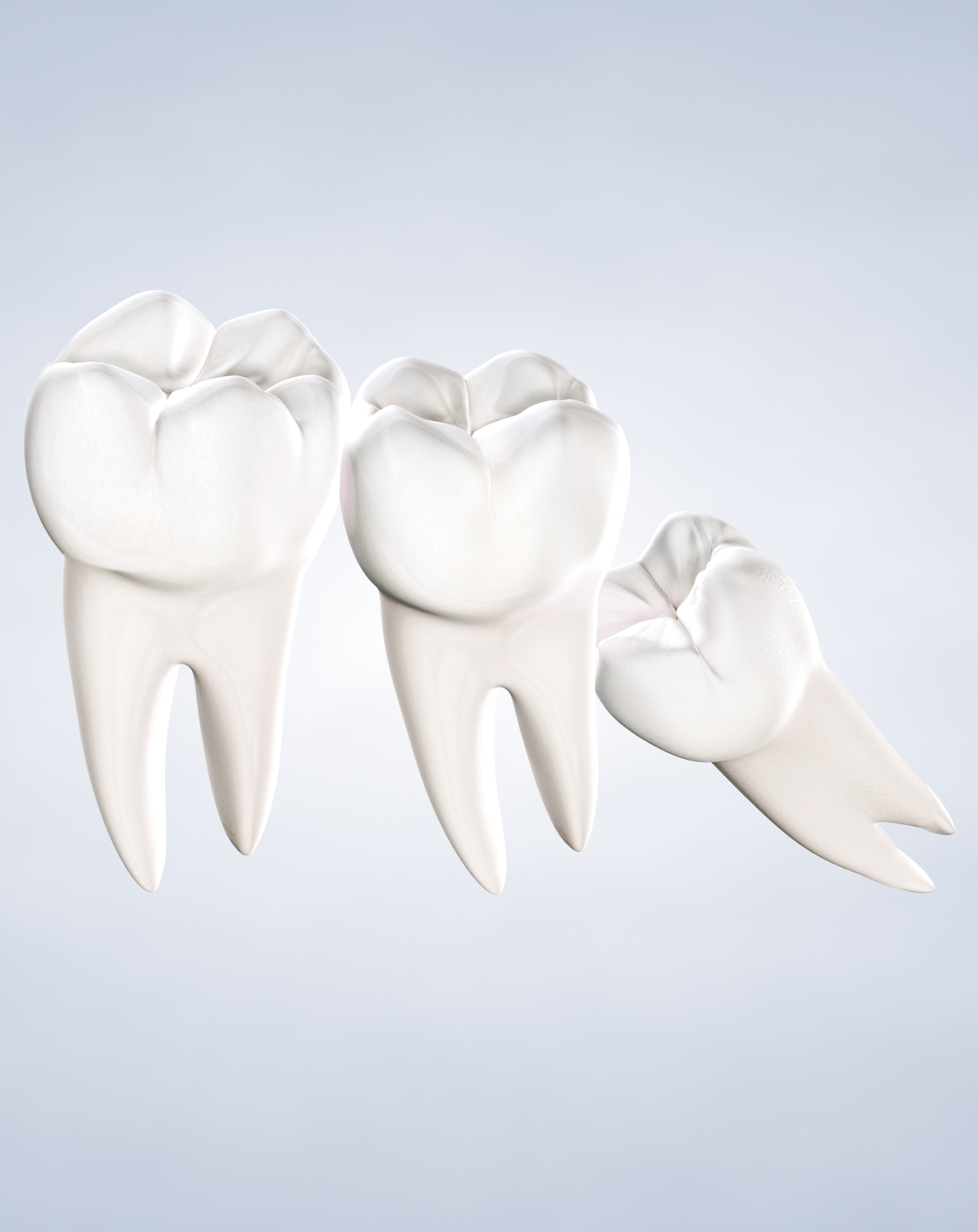 Wisdom Teeth Removal in Jeffersonville, IN
Protect Your Gums and Teeth
Typically between the ages of 17 and 25, wisdom teeth begin to develop. Also known as third molars, this extra set of molars are large and unnecessary for oral function. Therefore, many dentists and oral surgeons recommend having them extracted.
Our oral and maxillofacial surgeons at Kentuckiana Oral Maxillofacial and Dental Implant Surgery specialize in safe and comfortable wisdom tooth removal. If you have been told by a dentist that you have wisdom teeth, or suspect the development of third molars contact us in Jeffersonville, IN, for an appointment. Dr. Nathan Walters, Dr. Christopher Noonan, Dr. Geoff Mills, Dr. Jamie Warren, or Dr. Will Allen will evaluate your oral health and determine if it's time to have your wisdom teeth removed.
The Benefits of Wisdom Teeth Removal
Left untreated, wisdom teeth can cause many oral health issues. Some wisdom teeth only partially erupt, while others become fully trapped beneath the gums. Impacted wisdom teeth must be surgically removed because they will not erupt on their own. By having an oral surgeon remove your wisdom teeth, you experience many benefits, including:
Alleviate Pain
Wisdom teeth can cause pain and swelling in the back of the jaw. This discomfort is alleviated as soon as the molars are extracted.
Prevent Cysts or Tumors
Erupted wisdom teeth can trap bacteria and are difficult to properly clean. They can develop infections, which can cause cysts or tumors to form around the tooth. Infection can also spread, causing gum disease or tooth decay.
Early Treatment Yields Better Results
Younger patients have smoother surgeries and recoveries because the wisdom teeth are not fully developed. You can have wisdom teeth removed at any age, but they will become more firmly embedded in the jaw bone as time goes on.
Protect Alignment
Wisdom teeth can push against nearby molars, causing them to become misaligned. This can cause a chain reaction and lead to misalignment of your other teeth.
Wisdom Teeth Removal Procedure
When you visit us for the consultation, you will meet with one of our highly skilled oral surgeons. We will take 3D scans of your teeth, discuss your treatment, and determine the right choice of anesthesia for your surgery. Most patients undergo IV sedation for wisdom teeth removal.
On the day of surgery, we will administer the anesthesia. Once it has taken effect, your surgeon will extract any erupted wisdom teeth with forceps, similar to a general tooth extraction. For impacted teeth, your surgeon will make an incision in the gum tissue to access and remove the tooth. Sutures will be placed as necessary, and you will rest in the office until the anesthesia wears off.
If you are undergoing IV sedation, you must arrange for an adult to take you home afterward. This person should remain with you for 24 hours after surgery to assist you while you're still under the effects of anesthesia.
Wisdom Teeth Removal Cost
At your first visit, we will go over the details of your treatment and provide the cost of your wisdom teeth removal. Several factors contribute to this cost, including how many wisdom teeth you have, your insurance, your choice of anesthesia, and the complexity of surgery. Our team answers any questions you have and remains transparent throughout the treatment process.
If you would like to find out more about payment options or how much your wisdom teeth removal would cost, contact Kentuckiana Oral Maxillofacial and Dental Implant Surgery in Jeffersonville, IN, to schedule an appointment.
Hear From Wisdom Teeth Removal Patients
These patients can tell you about their firsthand experience undergoing wisdom teeth removal at our office.
Reviews From Our Wisdom Teeth Removal Patients
Trenton Reviews His Wisdom Teeth Removal Procedure
Watch Review
"I'm Trenton, I'm from Taylorsville, and I had my wisdom teeth pulled. When I walked into the practice, I felt like I was welcomed. The doctors welcomed me, all the doctors' assistants—they made sure I was at ease for everything. They always asked me questions, if I was comfortable or if I needed anything. The doctor was great. Actually, he has a lot of interests in stuff that I have. He always makes me feel like I'm at home whenever I get to talk to him. The procedure went as expected. I was up and at it a few days after my procedure was done and I was ready to rock and roll. I got a great big smile now. I would highly recommend Kentuckiana Oral Maxillofacial and Dental Implant Surgery."
Frequently Asked Questions: Wisdom Teeth
What happens if you wait too long to get wisdom teeth out?
As you age, the wisdom teeth will fully develop. Their roots will become larger and more firmly embedded into the jaw bone. This can cause complicated extraction in the future. While it is recommended to have wisdom teeth extracted early, you can have them removed at any age.
How long is wisdom teeth recovery?
You can expect to return to your regular routine 1–2 days after surgery. It will take about 2 weeks for the extraction sites to fully heal, but most patients return to work or school within a few days.
Can I be put to sleep for wisdom teeth removal?
We typically administer IV sedation for wisdom teeth removal. This is different from general anesthesia, which renders you totally unconscious. IV sedation puts you into a sleep-like state. You will drift in and out of consciousness and be able to respond to your surgeon, but you will not feel pain.
General anesthesia is reserved for more complex surgeries like orthognathic surgery or facial trauma. We may also administer a local anesthetic to provide additional comfort during and after surgery.
What is a dry socket after wisdom tooth removal?
Dry socket is a condition where the blood clot forming within an empty tooth socket becomes dislodged. It is typically a result of sucking on a straw, smoking, or rinsing the mouth too vigorously following tooth extraction. This condition is very painful, as the underlying nerves and bone are exposed. If you suspect a dry socket, contact your oral surgeon immediately.
Your Home for Clinical Excellence
Since 2004, we have provided patients along the Indiana and Kentucky border with superior oral surgery services and beautiful results. Our surgeons are oral health experts, and together with our skilled staff, we raise the bar for our patients and their experiences.